Gifts
The Best Anniversary Gifts for Parents: 7 Ideas They'll Adore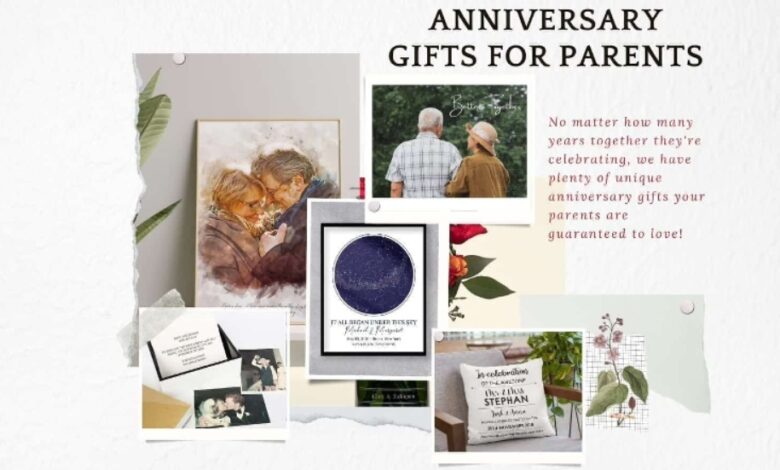 Parents make a lifetime of sacrifices for their children and never ask for anything in return – except maybe a little peace now and then! But when their anniversary comes around, it's the perfect opportunity to show your parents how much you appreciate everything they've done for you. It is possible to do many different things to celebrate an anniversary, one of the most thoughtful things you can do is give your parents a gift they will truly cherish. You can look out for these special gifts under your pocket with Joi Gifts which specializes in unique anniversary gifts that will make your parents smile. It also carries a line of gag gifts that are sure to provide a laugh or two on the couple's special day and even provides a Joi Gifts discount code for affordable gifts. Let us begin with our top ideas for now.
Best Anniversary Gift Ideas for Parents
A Custom Photo Book
A custom photo book is a unique and personal gift that your parents will cherish for years. You can fill the pages with images of your favourite moments together or use photographs to tell the story of their lives. If you're feeling creative, you can add handwritten captions or poetry.
A custom photo book can be designed to reflect your parents' taste and style. Whether they prefer classic black-and-white images or vibrant full-colour photos, a photo book is perfect for them.
A Personalized Calendar
A personalized calendar is a great gift for parents who love to keep track of important dates. Choose a design that reflects their interests, and include photos of the family throughout the year.
They'll appreciate being able to see everyone's smiling faces all in one place, and they can even use the calendar to plan future get-togethers. Best of all, they'll think of you every time they look at it!
A Set of Custom-Made Drinking Glasses
Anniversary gifts for parents are a dime a dozen, but finding something that truly suits their unique relationship can be tricky. If you're stuck somewhere on what to get your mom and dad this year, consider a set of custom-made drinking glasses. You can have them engraved with your parents' initials, wedding date, or even a sweet message like "Best Mom & Dad Ever."
Not only will they love having a special set of glasses to enjoy their favourite drinks, but they'll also appreciate the gesture's thoughtfulness. Plus, you can be sure that no one else will have a gift like it!
Customized T-Shirt
A customized T-shirt is a fun and practical way to show how much you love and appreciate them. You can include photos, quotes, or inside jokes that will make them smile whenever they wear them. Alternatively, you can have the shirt printed with the date of their anniversary and your names to create a lasting memento.
For parents who enjoy travelling, you can purchase a T-shirt from their favourite vacation spot to remind them of good times spent together. Whatever design you choose, a customized T-shirt will surely be a gift your parents will treasure for years to come.
A Custom-Made Coffee Mug
One of the best and unique gifts you can give your parents for their anniversary is a custom-made coffee mug. You can have their names and anniversary date printed on the mug, or you can choose a design that celebrates their special day. This is a gift that they will use every day, and it will always remind them of how much you love them. 
If your parents are coffee lovers, they will appreciate a mug that is specially made for them. Custom mugs are also great for hot chocolate and tea drinkers. No matter what their beverage of choice is, your parents will adore this unique and personal gift.
A Custom-Made Piece of Jewelry
When it comes to anniversary gifts for parents, nothing says "I love you" quite like a customized piece of jewellery. You can have their beautiful names engraved on a gold pendant or design a ring or bracelet with birthstones representing each of their children.
If you want to pull out all the stops, you can have a family portrait commissioned and set into a locket or cufflinks. Whatever you choose, customized jewellery is a gift that your parents will cherish forever.
Customized Painting
Customized paintings make great anniversary gifts for parents. You can work with a talented artist to create a unique piece of art that captures your parents' love for each other. If you're unsure what kind of painting to get, you can ask the artist to create a custom design based on a photo of your parents.
Alternatively, you can choose an existing painting you think your parents will love. No matter what paint you choose, it is sure to be a gift that your parents will cherish for years.
Get all these diverse gift options from Joi gifts online and use the special Joi Gifts coupons to get additional discounts online and make your parents' evening worthwhile.
Final Thoughts
Our gift selection includes traditional items like flowers, chocolates, or something more unique to show your parents how much you care, we've got you covered. Our list of the best anniversary gifts for parents includes something for everyone. If you want to give them a truly memorable experience, consider booking a romantic getaway package or tickets to their favourite concert. And don't forget to use our exclusive Joi Gifts promo code at checkout for an extra special surprise! What will you choose to celebrate your parents' anniversary this year?