Technology
What Are the Different Types of Access Control Readers?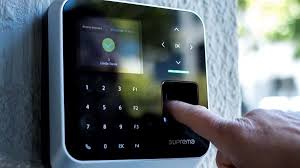 Whether trying to protect your business or customer information, access control is handy in restricting who has access to your information and their processing systems. With the right system, you can mitigate the risk of your business information falling into the wrong hands.
However, for your access control to be effective, you must have an equally outstanding access control reader. You could use a contactless reader, smart card, proximity card reader, or magnetic reader. The bottom line, your system is only secure if your access controls work perfectly.
From this, there are different types of access control readers. And in this article, we explore the top 5 access control readers and their pros and cons.
Types of Access Control Readers
There are 5 main access control readers, which include:
Proximity card readers
With more commercial properties relying on access control for security, card readers are becoming even more popular. These buildings use a proximity card and a proximity card reader to control access.
Usually, the system works with a card, a token, and a physical fob. The card reader communicates with a chip embedded in the card.
Many types of proximity card readers of different kinds, depending on their form of communication and their source of power. Based on these, proximity card readers are grouped into:
Wired proximity readers- use Wiegand protocol
Wireless proximity reader- battery powered
IP-Connected proximity reader- built into the building IT system
Standalone proximity readers- do not connect to a control panel and store their information on the reader.
Pros
Contactless control access is more hygienic
Card readers can be more flexible and are more integrable
They are hard to clone
Easy to install and implement
Reduce wear and tear
Cons
Some card chip processors can slow down
The range is limited
Susceptible to power and internet outages
They are hackable
Keypad readers
Keypad readers are another common access control reader in the market. Usually, the locks are opened with a pin, hence the PIN reader. For this system, each user has their PIN code or keyword, which they manually key into the keypad reader.
The pin triggers an electronic lock, which then opens and resets when the door closes again.
You can find most keypad readers in systems such as:
Standalone keypad and pin entry readers
Combination locks- can accept the password or read a keycard
Integrated keypad locks
Pros
They are convenient-users can use one PIN to open multiple doors
Cost-effective for a small number of doors'
You can use it to create a two-step authentication entry
Easy to use
No physical credential required
Cons
Required regular PIN/password update to maintain the control access security
Prone to constant maintenance
Unhygienic
One PIN input can allow for multiple people to enter since they can hold the door open
Mobile Readers
Another access control reader in the market is a mobile reader. The system uses a mobile phone, tablet, smartphone, or wearable electronics as user credentials.
Usually, the system is a wireless system that communicates through Bluetooth. So, when the connection is established, the reader gets information from your device and gives access. Mobile access control is popular in payment applications. Some of the popular technologies employed in mobile access control include:
Transmission standards- e.g., Bluetooth, RFID, and NFC
IT equipment like internet switches, PoE
Technologies like IoT, Wireless access control, and PACs
Pros
The systems offer security with a few clicks
Mobile readers are cost-effective
They are easy and convenient to use
Cons
The range of communication is limited
RFID Readers
An RFID system uses a key fob with RFID technology to verify credentials. The system comprises an RFID tag, an RFID reader with antennas to receive transmitted data, a control panel to interpret the data from the RFID tag, and an electric door release mechanism. More importantly, the reader creates an electromagnetic field to power the RFID tag, depending on whether it is an active or passive system.
Pros
Easy to use
Easy to replace
Effective, especially for elevators
Cons
You need to keep replacing the key fob
It is insecure since they are easily cloneable
No features to manage visitor entry
Multi-Factor Authentication
Businesses and commercial spaces can opt for a multi-factor authentication access control system for added security. A good example is the Google two-step authentication.
In an access control system, the same applies. You need a PIN/code and a card. Some include a fingerprint reader in the mix.
So, if someone is to access the building, cabinet, or safe, they need to input a PIN code, scan their finger, or await a verification step in their phone, depending on the setup of the control access reader.
Pros
Improves the company's security
It protects your sensitive information
MFA often meets regulatory requirements for supporting services in a company
It protects information that could be lost with the device
Cons
It can be frustrating when the second factor does not work
It can be expensive for the business and time-consuming for the user
Possible to encounter inconsistencies among user
Susceptible to phishing
Final Thoughts
In business today, information protection rules over everything. Access control can boost your security and lower the risk of losing client info or your business data falling into unauthorized hands. And with an access control system comes access control readers, which you can find at Sesamsec.