Business
QNET Products Promote Holistic Wellness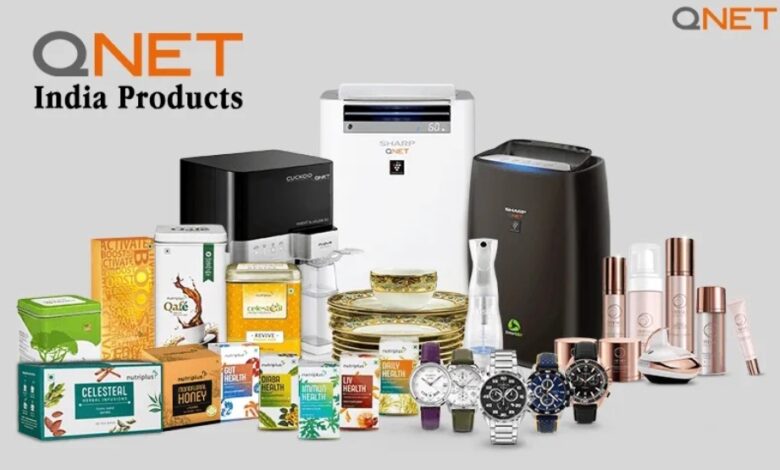 Global e-commerce business QNET offers exclusive, high-quality products to customers around the world through its network of independent representatives. While customers can find a great deal on everything from jewelry and watches to skin cream and toothpaste, one of the most popular product lines focuses on improving health and wellness.
QNET offers unique, innovative products that promote a holistic approach to wellness. The products provided through QNET's Amezcua brand combine multidimensional aspects of wellness that embrace scientific methods with alternative therapies. These products promote a better understanding of what it means to be healthy in the 21st century.
The e-commerce giant also offers home products that promote wellness, including water and air purification systems. They're a favorite of QNET CEO Malou Caluza, a cancer survivor. She said it's a priority for her that QNET provides products that help keep families safe and hearty, including water and air purification systems and natural weight management products.
Caluza said QNET works with more than 30 product brands developed exclusively for the direct selling business. She added that these products "help you lead a healthier, more holistic lifestyle, allowing you to take care of your family and your personal aspirations."
Designed with the input of a scientific panel, Amezcua wellness products help people harmonize their bodies and build resilience against stress and other unhealthy environmental factors. They're exclusively sold through QNET.
Connecting customers with these exciting products is the job of QNET's independent representatives, who are present around the world. Because of their importance, one of the most critical parts of the QNET business is training and teaching independent representatives how to do well in the direct selling business.
How To Be Successful in QNET
Becoming successful in QNET involves cultivating a passion for selling products that help people improve their lives, as well as approaching the job with honesty, integrity, and self-awareness. These attributes are all part of what it takes to become a strong self-leader.
One of the best steps a QNET independent representative can take as they embark on their entrepreneurial journey is to understand their own purpose — the "why" that drives them to take on the challenge. It's typically helpful to write these reasons down — often in the form of goals to achieve — and place them somewhere prominent. It's also vital to understand it's acceptable to alter those reasons as circumstances change.
Strong self-leaders also understand their strengths and weaknesses, as well as the negative thoughts and unfounded fears that hold people back. An example of that comes from Michael Dovinno, an independent representative from Indonesia who overcame his shyness and inability to speak before crowds. Rather than hide from this issue, he directly dealt with it by displaying another important trait for success in QNET: curiosity and an openness to learning.
"Through this business, I learned to want to learn. No matter how successful you are, no matter how much you've achieved, if you stop learning, none of it would have mattered," Dovinno said in an interview published on QBuzz, the "voice of QNET" website. "I learned through my mentors that you have to keep learning and stay humble. I keep living these lessons until today."
Caluza said direct sellers also benefit by living the core beliefs of QNET that are encapsulated in RYTHM — Raise Yourself To Help Mankind. While QNET funds charitable organizations and nonprofit initiatives through its RYTHM Foundation, Caluza said the acronym also serves as a major factor in driving independent representative success.
Caluza said a successful QNET direct seller "is passionate about helping people take charge of their lives through our products and our business — one who leads with honesty and integrity and lives the values of RYTHM. These are attributes that make the distributor a successful CEO in their own right."
High-Quality QNET Wellness Products Contribute to Success
Many decide to become a QNET independent representative because it allows them to better control their career. Calou, who has worked with QNET since its founding in 1998, said one of the best decisions the company made from the outset involved combining the possibilities of the then-new concept of direct selling with people's inherent entrepreneurial spirit.
"We tapped into the rise in micro-entrepreneurship," Caluza said. "The gig economy that everyone is talking about today is popularized by tech companies, but direct selling was the original gig economy business."
A direct selling business also offers opportunities to everyone regardless of gender, age, or socioeconomic background. Anyone with the desire to become an entrepreneur and the skills needed for the field can access an opportunity as long as they're willing to put in the hard work and maintain the right mindset.
They also benefit from the high quality of QNET products. Brands available through QNET include Bernhard H. Mayer, Cimier, Brook & Blaze, Physio Radiance, Defy, BioSilver, and ProSpark.
QNET sells wellness products through its Amezcua brand. In a video from Amezcua, customers learn the products are created with the belief that "a holistic approach to wellness is the key to a better life." Amezcua designs the products to reconnect people to the rhythms of nature and help them find their equilibrium.
Products include the Amezcua Chi Pendant 4, Amezcua Bio Disc 3, and Amezcua Bio Light 3. A scientific advisory panel contributes to the development of each product. Dr. Beverly Rubik, a panel member, earned her Ph.D. in biophysics from the University of California, Berkeley. She said decades of research in the bio-field has shown her how people can maintain their health through enhanced self-care.
"The bio-field is the master field of life. It's the bridge between mind and body," Rubik said in an interview. "Amezcua has several revolutionary products. Chi Pendant 4 is the latest. The small, metal chip within the pendant is imbued with highly specific frequencies that have been studied by scientists to impact the bio-field, to harmonize and balance it and create resilience against stress."
The pendant is one of many wellness products QNET offers. It not only provides customers with unique products that can improve their lives, but also provides entrepreneurial-minded people the opportunity to control their own destiny by starting a micro-business.