Education
Why You Should Develop These 7 Daily Habits For A Better PTE Preparation?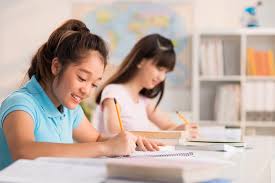 Collecting bundles of PTE preparation materials alone will not help you grab an impressive score of 79+.
You cannot practice for 3-4 hours/week alone and expect miracles to happen or achieve a perfect score of 90. And no one is going to tell you how to make it happen.
If you sincerely want to score 79+ or a higher score; you need to LIVE with your PTE preparation. 
Yes! But how do you do that?
Well, here is a list of habits that you must include in your everyday PTE practice.
Develop a mindset
Start thinking in English
Start talking in English
Be prepared to face embarrassment/criticism
Develop a habit of Reading
Prepare your own vocab bank
Make an error journal
Do not follow these, if you do not know how and why you must implement these?
7 habits that make your PTE Preparation effective:
1. Develop a mindset
Most of the PTE Test takers jump directly on to preparing for the PTE Exam with the materials that they manage to gather. And start preparing for the PTE exam only for the sake of clearing it.

But to develop a better fluency you must need to develop a mindset to learn the English language. You cannot prepare for a couple of days and switch to something else. You need to give yourself time and be disciplined in learning & improving in English.
2. Start thinking in English
Thinking is the first thing that you do when you talk about any topic or talk to any person. And no one teaches you how to think in your PTE Practice.

The easiest way to gain confidence about what you are thinking to speak about is 'also think what the other person will reply'. And think this too in the English language.

It will give you confidence and will also help you analyse your thoughts if they actually mean what you are intending to speak.
3. Start talking in English
Initially, it might make you feel awkward to talk in English with the people you do not have a habit to speak in English. But you got to start.

Start speaking in English. And make sure to speak with the people who can communicate in English quite well or better than you.

It will help you find the gaps and believe that a continuous habit of speaking in English will improve your language skills faster.

Also, you can speak and record your speech or talk in front of a mirror to boost your confidence.
4. Be prepared to face embarrassment/ criticism
Yes! There are chances that when you speak to people who have a good hold of the English language or are better than you might correct you. And if they really care they will do it in public too.

If you feel embarrassed about it; you will only stop yourself from learning. Let them correct you in public. You will never commit the same mistake again ever.
5. Develop a habit of Reading
The easiest and quickest way to improve your English language skills is to read as much as possible.

Make sure to read an article per day. The more you read the newer words you come across and it will also empower your skill to think in the English language.

Read an article on the internet, read a magazine, read a newspaper – in short read as much as you can. It will also help you skim and scan through the passages in the exam. Try understanding the context and identifying the keywords of the passage.
6. Prepare your own vocab bank
The more you read the newer words you learn. Note them in a notepad. Write down their meaning and know where you can use them.

And that's not it; write at least 3 sentences that contain that word. And if you want to take your PTE preparation to the next level also categorise the words topic-wise.

And keep this notepad handy. Re-read it after every 3 days to remember those words that can prove helpful.
7. Make an error journal
This is something that you need to do from day one. Make a list of the errors that you have been making, be it a grammatical error, sentence formation, word or sentence stress, or pronunciation & oral fluency errors. All you need to decide is not to repeat the errors.
Conclusion: The masterstroke
If these habits leave a gap, do not worry. You always got the experts and technology that backs you up.

You can either join online PTE practice with the expert by choosing PTE online coaching with certifies tutors at PTE Tutorials or download their comprehensive mobile app and practice speaking.
And remember you got to start soon. All the best.
Author Bio:
Krina Patel and team have developed PTE Tutorials as a one stop solution for PTE Practice. It is an online portal that presents the PTE Test taker with several features that boost their individual as well as Overall Score. Some of the many capabilities include test evaluation, test analytics, useful videos, practice resources like essay essentials, describe image booklet and more.